Improve your user experience with every visit to your website or send a message by using AI Chatbot. These chatbots make your work lighter because they are programmed to answer the concerns of your customers. They will entertain your customers and at the same time, they will act as a tour guide for your website. Most of the chatbots are auto-generated answers that are relevant to your customers' questions. This helps your online business to cut costs in hiring customer services because they can also interact with your customers 24/7, and answer the usual inquiries about your products and services. These chatbots also offer you a free trial or for some, a free monthly plan.
Let us give you a quick background of how chatbots started and became a useful tool for customer service. It started with ELIZA, the very first chatbot in existence that was created by Joseph Weizenbaum. She was created so that Joseph Weizenbaum can demonstrate the interaction between humans and machines to the world. During the rise of the digital age, many of the chatbots that appeared were created mainly for entertainment purposes. But as time went by, many marketers saw the potential of chatbots in customer service, and that it can help people with their varying inquiries through the use of texts or voice.
So if you're looking for a chatbot that you can use for your website or messenger, you have come to the right place. Here are the 8 chatbots that can help you take care of your business and improve customer engagement: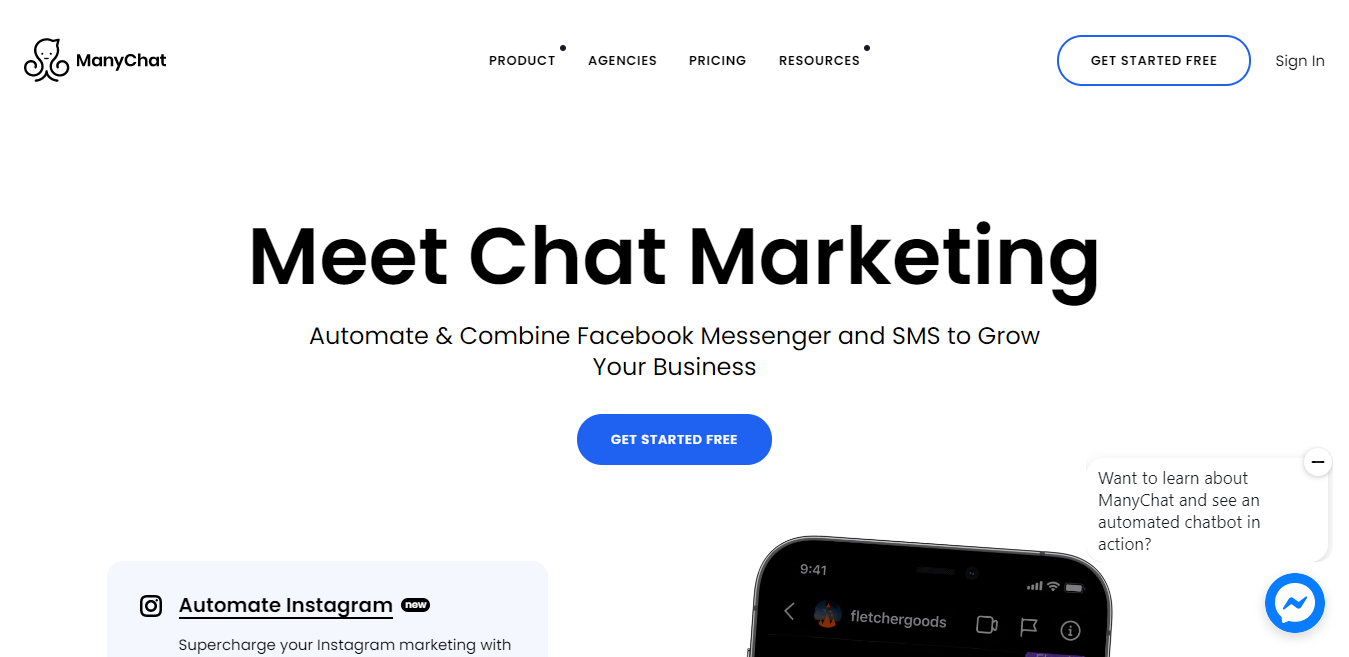 This app is ideal for someone who's just starting a business because they offer a free account that can provide customization of some layers, unlimited broadcasts, and two sequences. With Manychat, you don't need to know about coding when you're building a bot for your Messenger. All you need is an existing Facebook page that you manage. This chatbot can also support SMS and allow you to send bulk SMS messages. Although, for advanced features, you may need to upgrade to the PRO version.
Integrations and Messaging Platforms
Instagram Direct Messages
Facebook Messenger
Whatsapp
SMS
Google sheet
Shopify
Zapier
Active Campaign
HubSpot
ConvertKit
MailChimp
Paypal
Stripe
Integromat
How to Start
Visit www.manychat.com and see their pricing.
Get 1 month FREE Pro Account when you subscribe to a paid subscription and get an advanced quick start template and unlimited growth tools.
Available on Windows, Mac, Android and iOS
Collect.chat is an easy building chatbot because you don't need any coding knowledge, instead, you can set this up within a minute. What's great about this AI assistant is you have a variety of choices for question templates that will be relevant for your business. This chatbot is a full auto-pilot 24/7 messenger and you can get the data of customer/user conversation in your email. You can also gather leads, feedback, and schedule meetings with your clients. On top of that, you can use this chatbot with any apps or website depending on your workflow.
Integrations and Messaging Platforms
WordPress
The Hub
HubSpot
Slack
Xero
Twitter
Facebook
LinkedIn
Dropbox
Email
Gmail
Google Sheet
Evernote
Zendesk
Basecamp
Eventbrite
How to Start
Visit www.collect.chat and register with your email account or directly use your Gmail, and get a free monthly subscription.
Choose LITE for a paid subscription to get the usual flow of conversation with customers and to be able to send data to your server.
Available on PC only.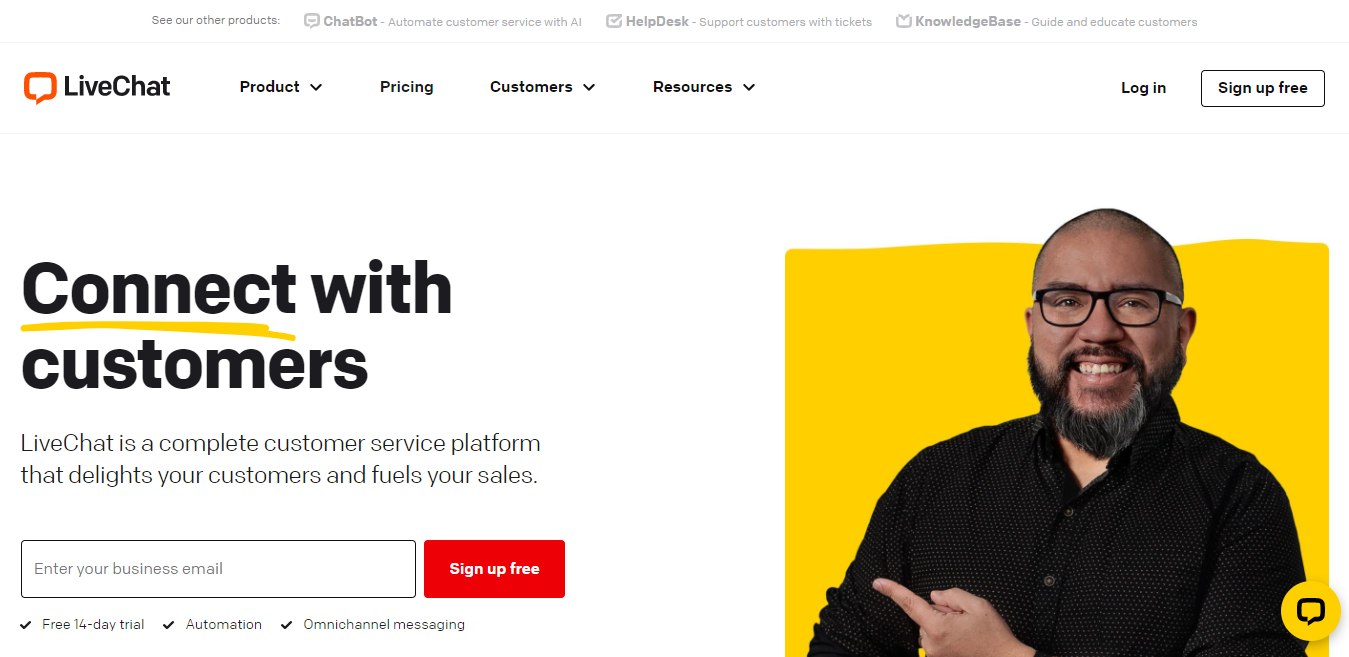 LiveChat is a chat and support desk app that enables small to large businesses to communicate with their guests and customers. It has customization features that you can use to match your business color or theme. The solution it provides integrates with the company's website, social media accounts, messaging apps, etc., allowing online visitors to connect with agents through a chat window. It offers a variety of modules to add, including sales and marketing automation as well as integrations with third-party customer relationship management (CRM) platforms.
Businesses can use LiveChat to communicate with a wider audience by installing it on various websites. Customers may also be invited to the chatbox by sending them the chat connection via email or text.
Integrations and Messaging Platforms
Email
Facebook Messenger
Apple Business Chat
SMS
2way
WhatsApp
Zoom
Clearbit
Stripe
Microsoft Dynamics Cases
Slack
Super Vision
Google Analytics
Chat Translator
ChatBot
KnowledgeBase
Mailchimp
HelpDesk
SalesForce
Zendesk
How to Start
Visit www.livechat.com and register with your email account or directly use your Gmail, Microsoft, and Apple Account to get a 14-day free trial.
Choose BUSINESS for a paid subscription for your customer service department.
Available on PC, Android, and iOS.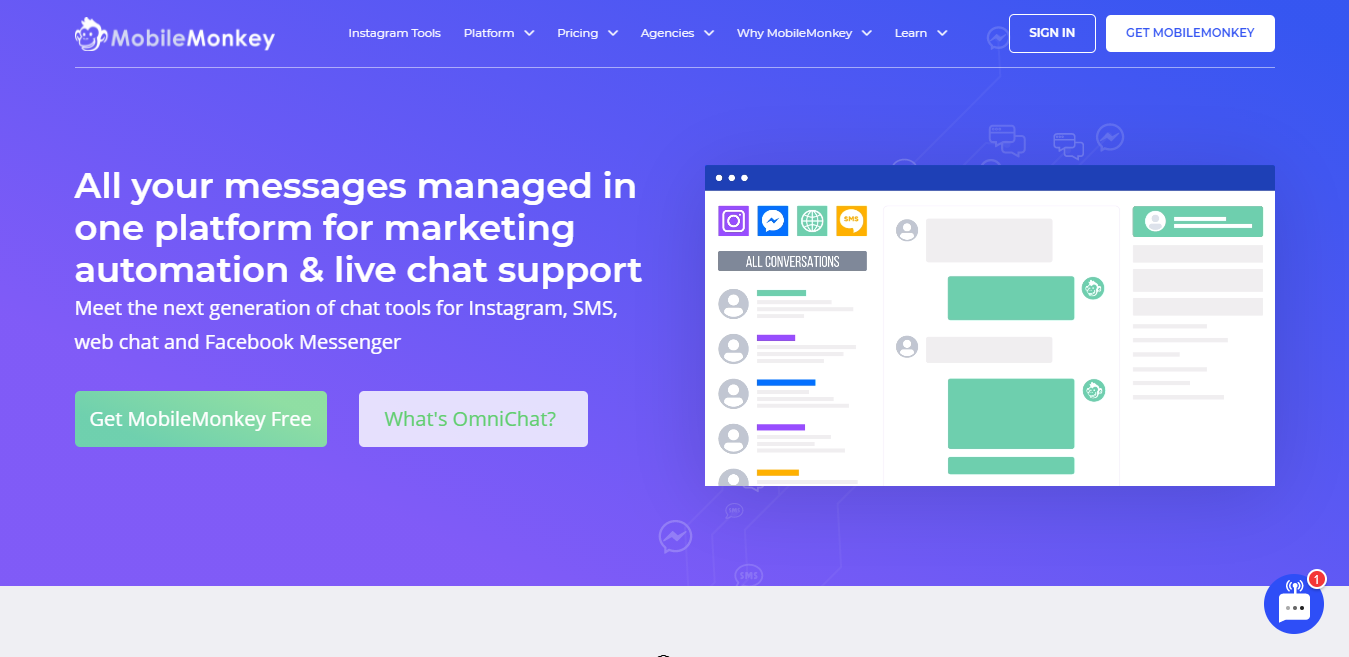 MobileMonkey offers a convenient way to communicate with your customers using Facebook Messenger. You can instantly chat with your customers and visitors by providing answers in FAQs that will save more time. It also allows you and your team to respond in real-time and anywhere if needed using their OmniChat mobile, both available in Android and iOS.
Integrations and Messaging Platforms
Facebook Messenger
SMS
Web Chat
Zapier
Facebook Ads
How to Start
Visit www.mobilemonkey.com and register using your Facebook account.
Choose PRO Unicorn plan for paid subscriptions to get Advanced Chatbot Dialogues and Bot Analytics.
Available on PC, Android, and iOS.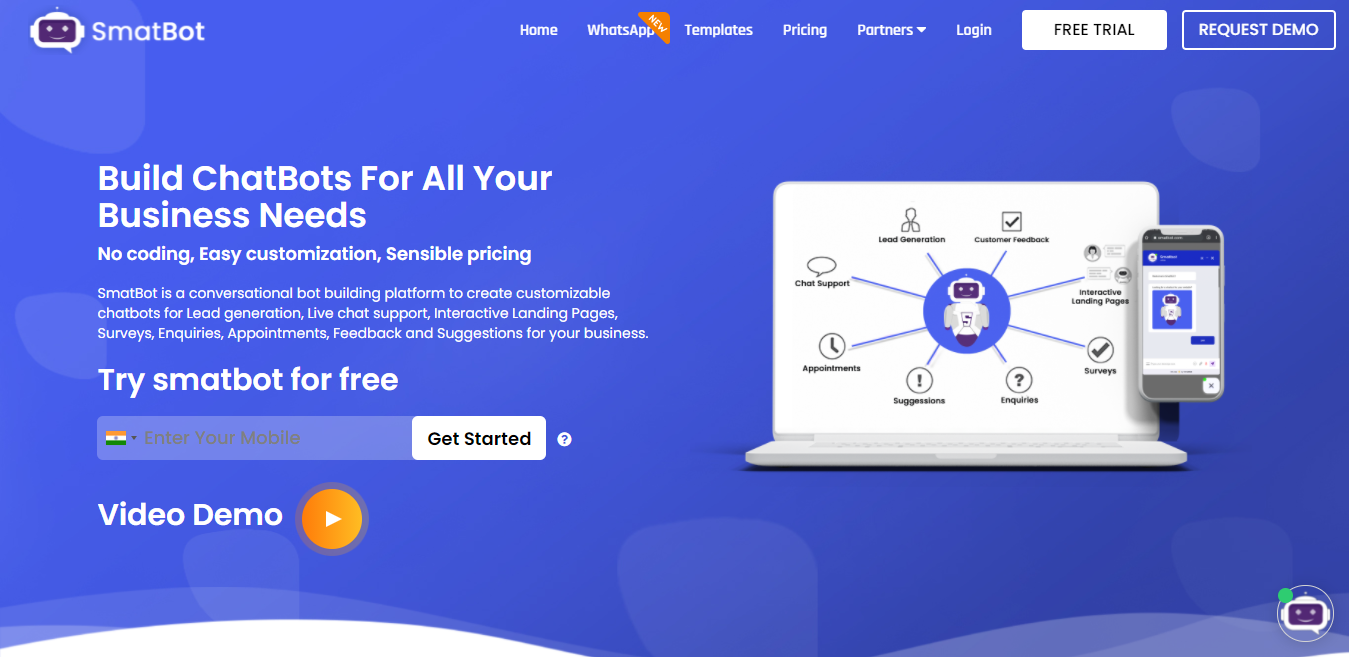 SmatBot is a chatbot building platform that uses a rule-based flow builder and artificial intelligence to develop customizable chatbots for generating leads, live chat support, collaborative landing pages, surveys, inquiries, appointments, reviews, and recommendations for businesses (AI) 24/7. It is made to appeal to all kinds of companies to meet their needs. This is great to use for unifying your customer's chatbot experience in your website, blogs, and Messenger that supports multiple information until the customer shares their information.
Integrations and Messaging Platforms
Website Chatbot
WhatsApp
Blog Chatbot
Facebook Messenger
Freshdesk
Zapier
Freshsales
Zoho
How to Start
Visit www.livechat.com and register with your email account, so you can use the 14-day free trial and free monthly plan.
Choose PRO for a paid subscription to have 10 chatbots, 1 agent from Live Chat, and 5000 chats.
Available on PC, Android, and iOS.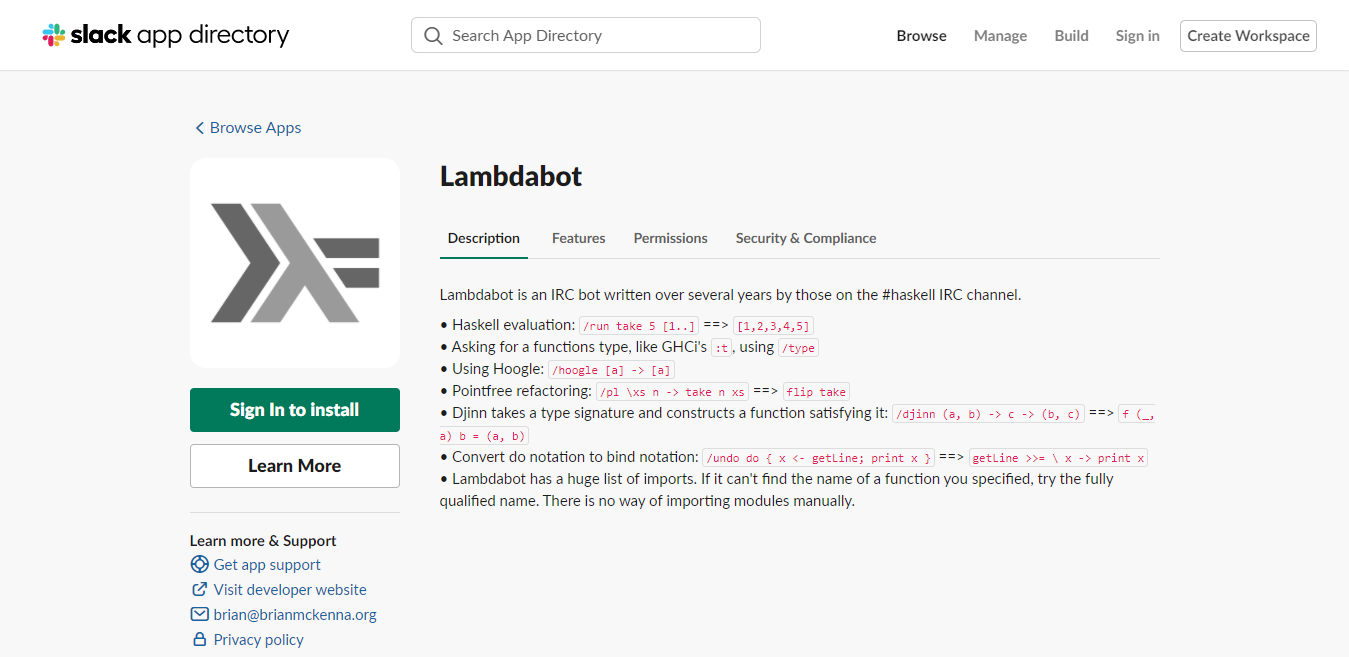 Lambdabot is an IRC (Internet Relay Chat) bot that can be found on an IRC channel. This can also operate during an offline mode as a tool from the Haskell development. Operating this chatbot needs coding knowledge, but you don't have to worry because it has a command-line tool, embedded in an editor option and GHCi through the internet relay chat and on the web.
Integrations and Messaging Platforms
How to Start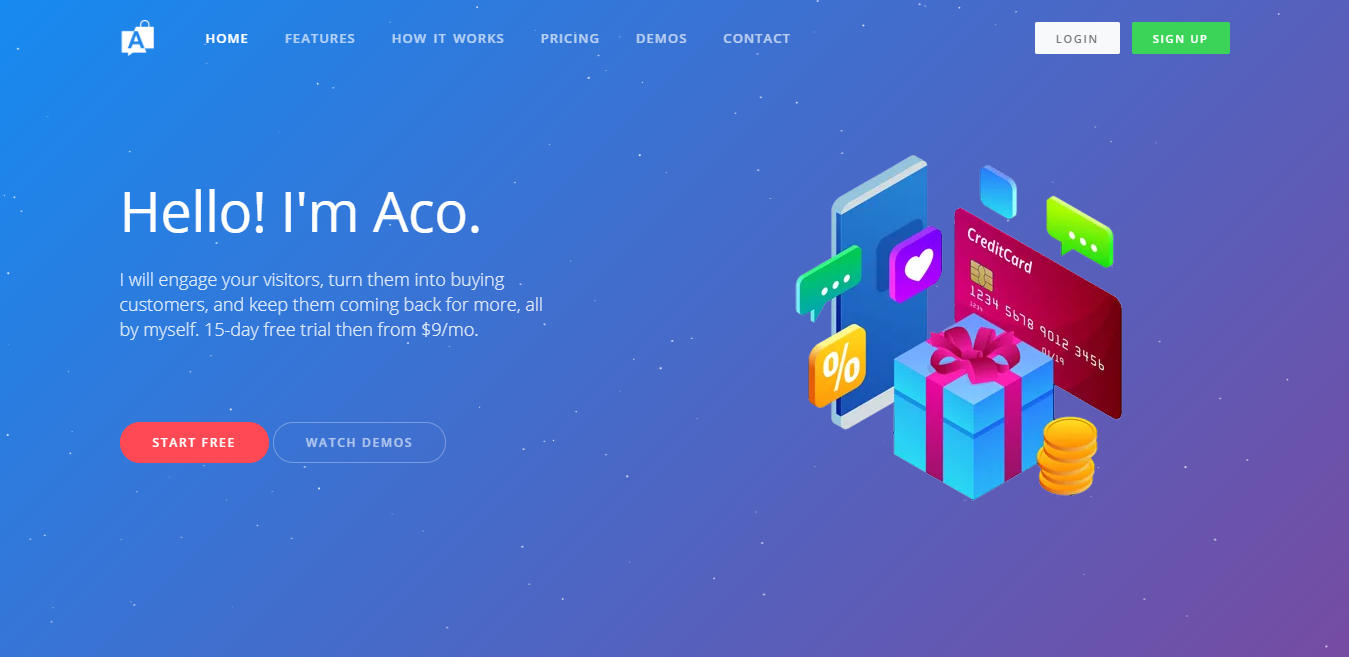 If your main business is an online store website, this AI assistant is for you. Acobot is a cloud-based messaging AI platform that helps e-commerce and online retailers increase online sales by providing intelligent chatbots. It also has capabilities in e-commerce, which can help expand and power online stores by growing product views and checkouts, decreasing cart abandonment, and enhancing interaction during crucial customer journeys. Acobot can be set up within a minute on your website. The cool thing about this AI is that a user can customize the widgets depending on the tasks.
Integrations and Messaging Platforms
How to Start
Visit www.acobot.ai and register using your Shopify account.
Choose PRO for a paid subscription to get unlimited Facebook Messages + SMS automation.
Available on PC and Mobile.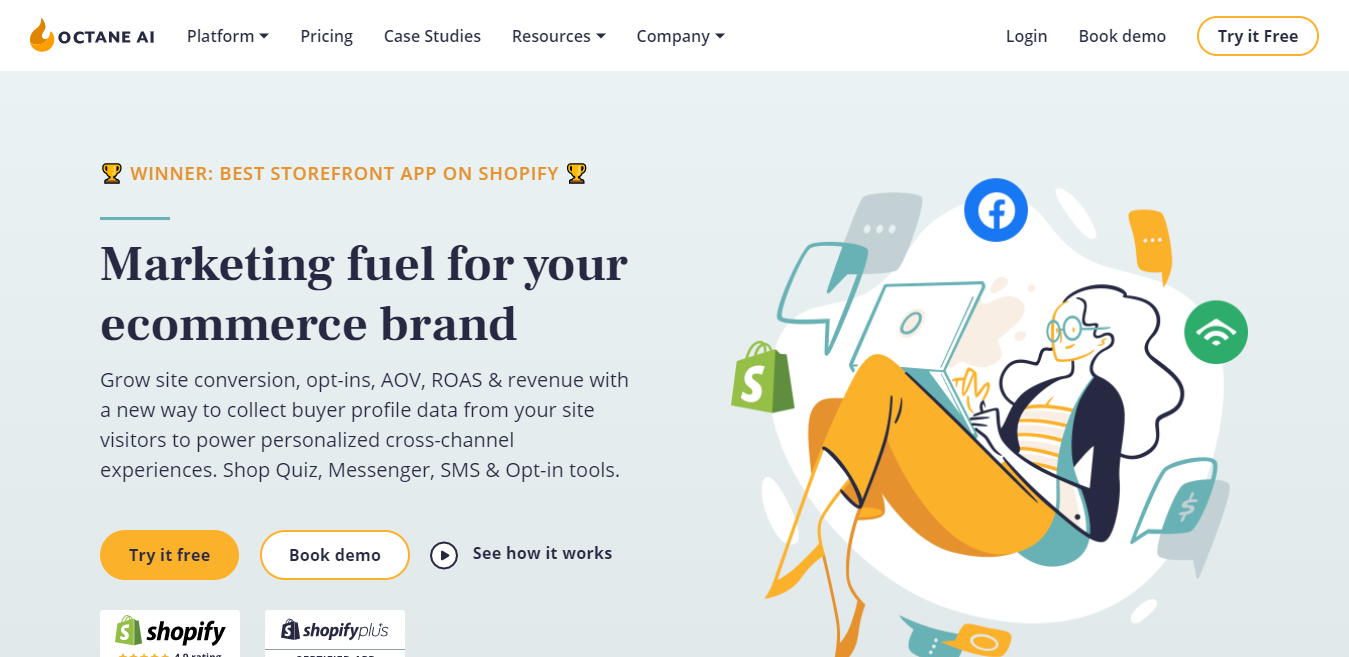 Octane AI supports Facebook Messenger, plus SMS, and a plugin for Shopify that helps to reduce shopping cart abandonment. Using this app, you can easily customize and set up your messenger bot in minutes for your Shopify stores. It will help you drive sales, boost engagement, and show quality leads for your Facebook page. You also don't need to worry about the receipt because Octane AI will notify you once you pay for your transaction, including the notification for shipping.
Integrations and Messaging Platforms
Facebook Messenger
Shopify
Yext
Klaviyo
Yotpo
How to Start
Visit www.octaneai.com and register using your email account, then you can use their 15-day free trial.
Choose the amount of monthly subscription depending on your website's subscribers.
Available on PC only.
9. Chatfuel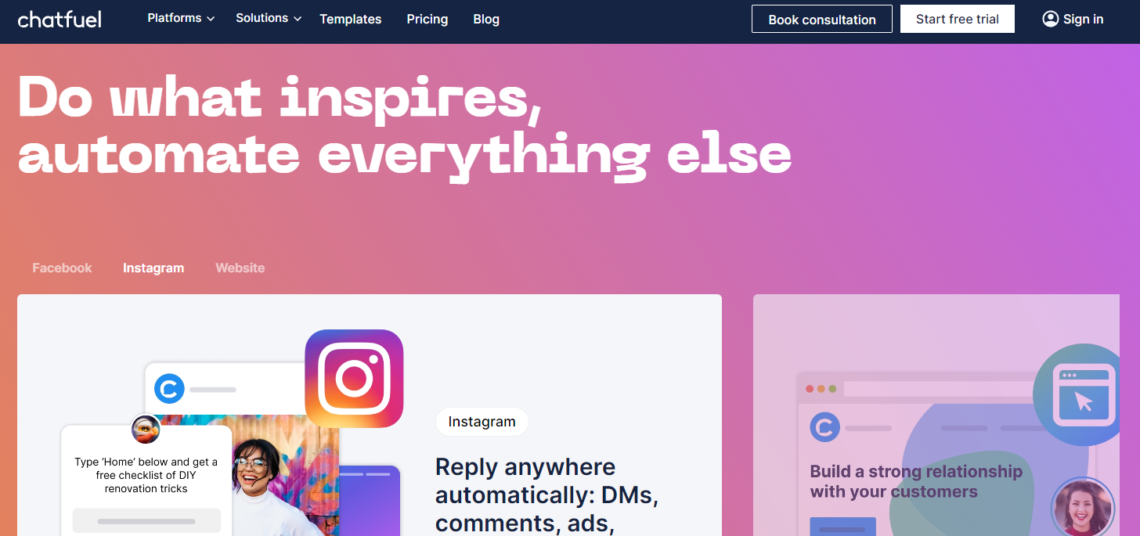 Chatfuel is one of the leading AI chatbot platform for Facebook, Messenger, and Instagram. It is a no-code chatbot builder, making it a fine option even for those with no prior experience with chatbots. It also provides businesses with a simplified way to connect and communicate with customers.
Integrations and Messaging Platforms
Facebook
Messenger
Instagram
Twitter
Zapier
Shopify
Gmail
Evernote
Stripe
How to Start
Visit chatfuel.com and sign up to start their free trial.
After signing up, login to your dashboard using your Facebook account.
Connect your Facebook page and start building your bot.
AI Chatbots improve your customer service in a personalized way that will make your customers feel comfortable having a transaction with you. They provide efficient customer service day and night. They will work for you even if you're not online and notify you if the transaction is done.
How about you, what are your thoughts on using chatbots for your messenger? Is the chatbot you're using included in our list? Let us know and share your answers in the comments section below!
If you need help in social media marketing and website design and development for your business, contact us now! Let us help you build and grow your business.