Instagram is known to take the spotlight when it comes to visually appealing posts and crafty features to beautify content and make them more engaging to people, hence the term, "Instagram-worthy" pics. On top of that, Instagram is also dubbed as the top social media platform for Gen Zs while Facebook remains to be one of the top choices for millennials. With the series of new feature launches in 2020, Instagram was able to make its mark on several businesses, helping them reach their market and engage more people to their brand.
Planning your social media marketing strategy takes more than thinking of what to post to get the attention of your audience. It needs to be backed up with information that will enhance your marketing strategies and allow you to come up with a marketing campaign that will boost your brand awareness and more. So without further ado, here's an Infographic for Instagram Statistics that your business needs in 2023: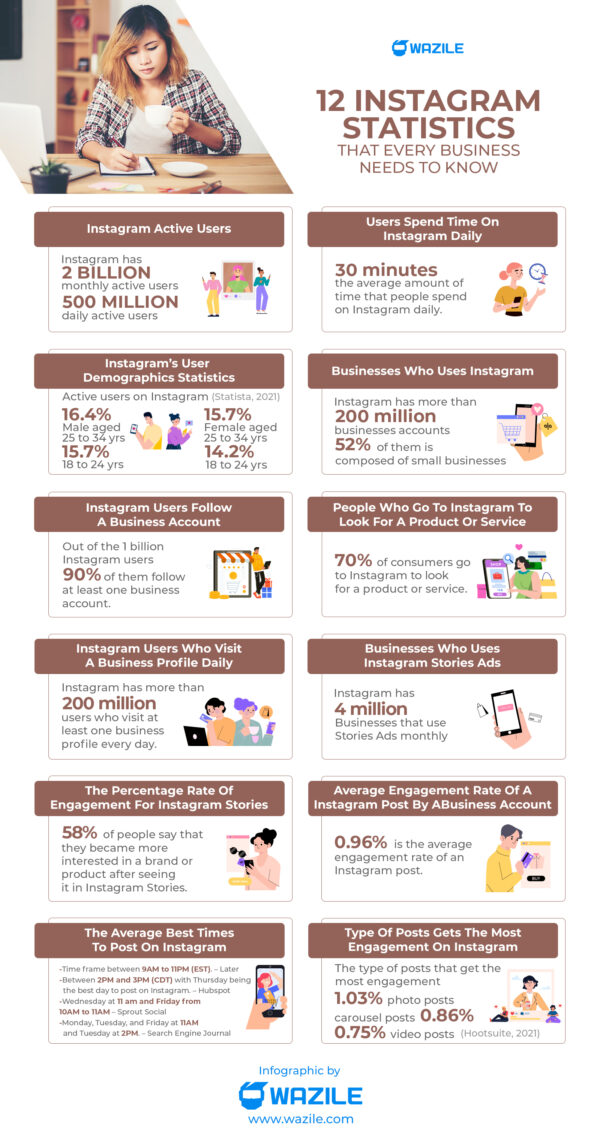 1. How Many Users Does Instagram Have Worldwide?
Instagram is continuously growing and gaining popularity all around the world with 1 billion monthly active users and 500 million daily active users worldwide. (Backlinko, 2021) As 2020 came to a close, Instagram was able to exceed the 1 billion mark for its global users. And in December 2021, Instagram grew more as already has 2 billion active users.
2. How Much Time Do Users Spend On Instagram Daily?
In May 2020, data gathered by eMarketer showed that Instagram users spend 30 minutes on the platform daily with a 4 minutes increase from 2019.
3. What is Instagram's User Demographics Statistics?
Although Instagram is considered to be one of the top Gen Z social media platforms today, data gathered by Statista in July 2021 shows that the majority of its user demographics composts of people aged 25 to 34 years old with 16.4% of them being male and 15.7% being female. However, it comes to a close call with age groups of 18 to 24 years old since 15.7% of the age group are male and 14.2% are female.
The data just shows that more than half of Instagram's user demographics worldwide are people aged 34 and younger. So for businesses targeting this specific demographic, it will be useful to set up a profile on this platform to keep your brand visible to the right audience.
4. How Many Businesses Use Instagram?
When the pandemic struck in 2020, many businesses, mostly small businesses, were badly affected by the lockdown since a lot of operations had to be halted for a time and people had to adjust to the new normal of doing transactions online. Social media became a useful tool for businesses to establish an online presence and customer base which is why as people continue to flock to different social media platforms, especially the mainstream ones, businesses from various industries also use this as an opportunity to market their brand. That's why there are more than 200 million business accounts on Instagram with 52% of them composed of small businesses.
5. How Many Instagram Users Follow A Business Account?
Out of the 1 billion Instagram users, 90% of them follow at least one business account, which means that 9 out of 10 people follow a business profile on the said platform. This data suggests that users find Instagram as a viable platform for shopping and discovering new products and services.
6. How Many People Go To Instagram To Look For A Product Or Service?
If you don't have an Instagram profile for your business, now may be the time to create one because 70% of consumers go to Instagram to look for a product or service, and your business may just be the next one they will discover.
7. How Many Instagram Users Visit A Business Profile Daily?
There are more than 200 million Instagram users who visit at least one business profile every day. That's why it is always important to keep the posts in your profile updated because your business can be one of the profiles that your target audience is visiting on a certain day. Of course, you want to be able to engage and get them to stay on your profile to know more about what your business offers.
8. How Many Businesses Use Instagram Stories Ads?
For small businesses that are just starting, paid ads may not be an option since the budget needs to be considered. But they are helpful in terms of increasing brand awareness, reaching the right audience, and yielding better results for your business. There are 4 million businesses that use Stories Ads on Instagram monthly, which means that people see the effectiveness of using paid ads in their business. If you can organically reach customers just by posting in your Stories, what more if you were optimizing paid ads and targeting the right people to your business.
9. What Is The Percentage Rate Of Engagement For Instagram Stories?
58% of people say that they became more interested in a brand or product after seeing it in Stories. This means that more than half of Instagram users get engaged by this approach. It also pays to have a website for your business since 50% of people say they proceed to visit a website to purchase a product or service after seeing it in Stories.
10. What Is The Average Engagement Rate Of An Instagram Post By A Business Account?
For an Instagram post, the average engagement rate is 0.96%. So for every 100 followers, you can expect at least 1 engagement.
11. When Are The Average Best Times To Post On Instagram?
It can be difficult to fully determine the best times to post on social media platforms because of the varying global peak times and the industry that your business is in, so this would probably continue to remain a discussion. However, SocialPilot put together data from different social media marketing companies about when they think are the best times to post on Instagram:
Time frame between 9AM to 11PM (EST). – Later
Between 2PM and 3PM (CDT) with Thursday being the best day to post on Instagram. – Hubspot
Wednesday at 11 am and Friday from 10AM to 11AM – Sprout Social
Monday, Tuesday, and Friday at 11AM and Tuesday at 2PM. – Search Engine Journal
12. What Type Of Posts Gets The Most Engagement On Instagram?
According to Hootsuite, the type of posts that get the most engagement on Instagram are photo posts with 1.03%, next is carousel posts with 0.86%, and video posts with 0.75%. Take note that it will still vary depending on the preferences of the audience and the industry.
If you're looking for someone to help you with the Instagram marketing of your business, contact us today, and we'll be glad to help you!