PPC or Pay Per Click is considered as one of the most viable digital marketing techniques for many businesses, especially in this online-centric times. And yes, even small businesses can reap the great benefits of PPC advertising as it can be utilized by businesses of varying shapes and sizes. It is also cost-effective since you only have to pay for relevant clicks and visits from potential customers who have shown interest in your product or service. PPC is unlike the conventional way of advertising, wherein you still pay the agreed amount of money even though the marketing didn't really do anything to boost your sales, let alone increase your presence to the right customers. However, just like any other marketing strategy, when PPC is not done right, it can cost you.
To grow your PPC advertising and actually see results, it is important to choose the right PPC networks or platforms to advertise your business. And staying up-to-date with the PPC statistics is essential in helping you create an effective marketing strategy for your PPC campaigns. So in this article, we will be highlighting some of the most useful PPC statistics for marketers in 2023.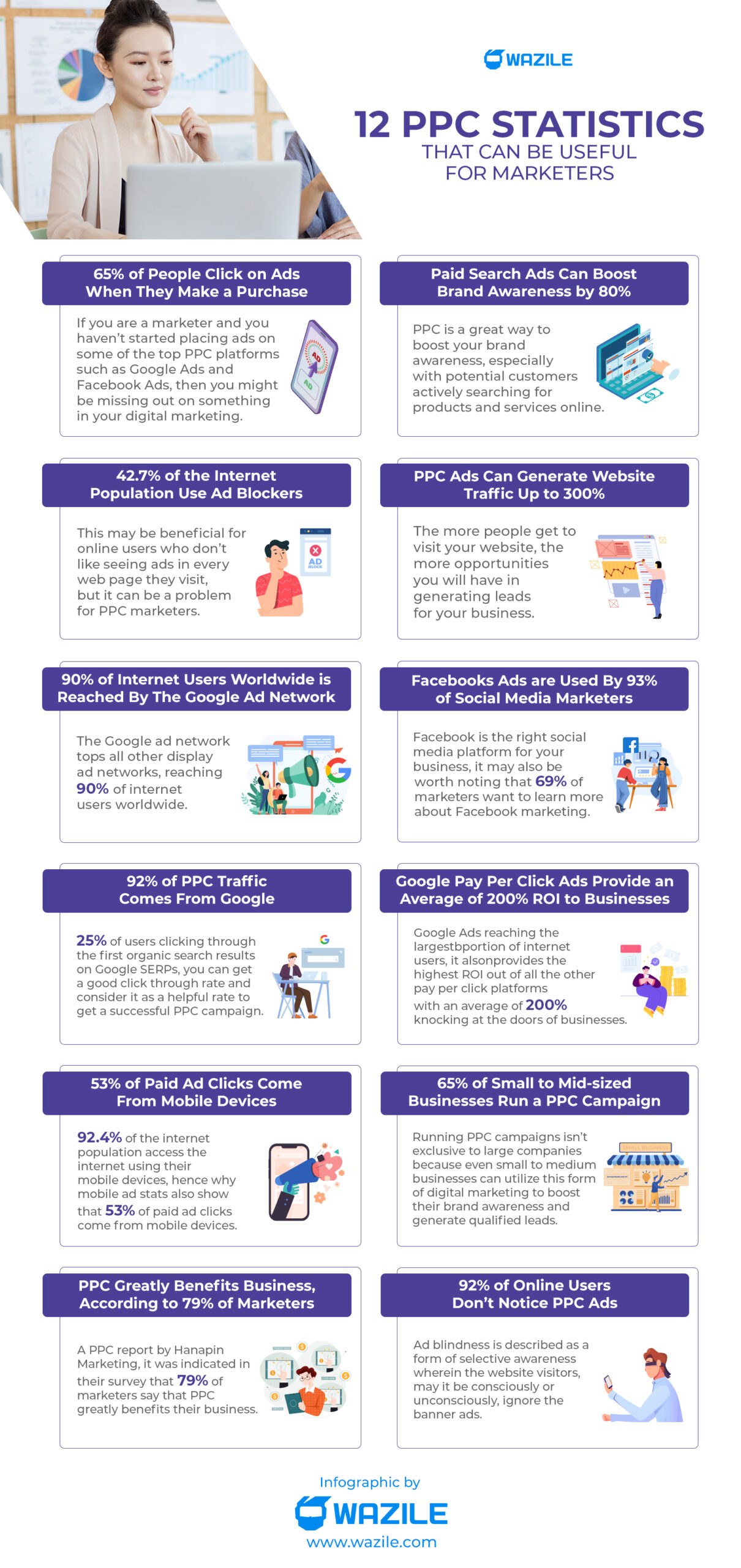 1. 65% of People Click on Ads When They Make a Purchase
The new normal that we have been continuing to live into ever since the pandemic started has made quite a significant impact on the Ecommerce industry as many businesses and customers further explore different digital platforms. With that, if you are a marketer and you haven't started placing ads on some of the top PPC platforms such as Google Ads and Facebook Ads, then you might be missing out on something in your digital marketing. This is because 65% of people click on ads when they are thinking about making a purchase. And if your ads happen to show what potential customers may be looking for, then you're well on your way to getting a successful click-through rate and sale for your business.
However, it's also important to never disregard invalid clicks. These clicks can often be a problem for marketers who run a PPC campaign as it can cause losing money on something that didn't really contribute positive results to the business. Invalid clicks typically happen when users click on your paid link by accident, via an automated system or on purpose, and at times out of hostility — which can be frustrating.
2. Paid Search Ads Can Boost Brand Awareness by 80%
PPC is a great way to boost your brand awareness, especially with potential customers actively searching for products and services online. PPC allows you to establish your brand using ads in different ad networks where it's easily visible to your target audience.
A study conducted by Ipsos MediaCT, consisted of 61 simulated search experiments, involving 800 U.S. consumers wherein they were asked to perform searches for category-specific searches spanning 12 verticals, and 8.2% of the control group were able to name brands that first came to mind using keywords from specific categories compared to the other 14.8% of the group. This has resulted in a 6.6% difference which leads us to an 80% increase in brand awareness.
3. 42.7% of the Internet Population Use Ad Blockers
Ad blockers are frequent stumbling blocks for many businesses that run PPC ads. An ad blocker is a software that was basically created to block ads from appearing on web pages. It's typically easy-to-install plugins or browser extensions that work to block ads or remove any form of ads on websites as soon as the installation is complete. This may be beneficial for online users who don't like seeing ads in every web page they visit, but it can be a problem for PPC marketers.
Since ad blockers were introduced in 2002 and hit its turning point in 2009, it has continued to grow in the latter years. So at present, 42.7% of the internet population use ad blockers, and different ad-blocking programs or software are widely used today in mobile devices and tablets. Given this percentage, there's no sign of people using ad blockers slowing down. That's why it's highly recommended that marketers strategize where they place their ads and come up with a more effective solution to their PPC campaigns.
4. PPC Ads Can Generate Website Traffic Up to 300%
If you've been into boosting your business through digital marketing, then you're well aware that website traffic is important for various reasons. To put it simply, the more people get to visit your website, the more opportunities you will have in generating leads for your business. And if you're looking to increase organic traffic for your website, PPC is one of the best ways to do that as it can boost your exposure on SERPs and increase brand awareness. Not to mention, PPC also helps you target the right customers and aid in finding the right set of keywords to add to your landing page.
Related: What is the Importance of Website Traffic in Your Business?
5. 90% of Internet Users Worldwide is Reached By The Google Ad Network
With Google dominating the search engine market and being the most visited website in the world, it is no surprise that the Google ad network tops all other display ad networks, reaching 90% of internet users worldwide.
Related: 11 Google Search Statistics for Every Business (2023 Infographic Guide)
6. Facebooks Ads are Used By 93% of Social Media Marketers
Facebook doesn't only have the largest number of users out of all the social media platforms, but it also has the highest percentage when it comes to displaying ads — with 93% of social media marketers utilizing Facebook ads to run their paid advertising campaigns. Displaying ads on different social media platforms helps your brand gain more exposure online and lets you target the right audience. So if you think Facebook is the right social media platform for your business, it may also be worth noting that 69% of marketers want to learn more about Facebook marketing. Learning more about the different digital platforms your business uses is a must as it enables you to better assess what marketing strategies you'll be creating in order to cultivate results that will benefit your business in the long run.
7. 92% of PPC Traffic Comes From Google
Given that Google Ads is the largest PPC platform, it doesn't come as a surprise or shocker that 92% of PPC traffic comes from Google. With more than 25% of users clicking through the first organic search results on Google SERPs, you can get a good click through rate and consider it as a helpful rate to get a successful PPC campaign
8. Google Pay Per Click Ads Provide an Average of 200% ROI to Businesses
Ads placed on top PPC platforms such as Google Ads play a huge role in convincing a consumer to push through with the purchase, especially if a certain brand has already created some sort of familiarity and positive impression on potential customers. That's why 90% of consumers also say that ads influence them in their purchase decisions. And with Google Ads reaching the largest portion of internet users, it also provides the highest ROI out of all the other pay per click platforms with an average of 200% knocking at the doors of businesses.
9. 53% of Paid Ad Clicks Come From Mobile Devices
The continuous evolution of mobile devices such as smartphones and tablets has brought about so much convenience for many people because you can now access a lot of websites, do your work, and more with just a few swipes and taps on the screen wherever you are. 92.4% of the internet population access the internet using their mobile devices, hence why mobile ad stats also show that 53% of paid ad clicks come from mobile devices. Given this opportunity, marketers today carry on with optimizing their ads for mobile devices to enhance their PPC campaigns and generate more leads.
10. 65% of Small to Mid-sized Businesses Run a PPC Campaign
Running PPC campaigns isn't exclusive to large companies because even small to medium businesses can utilize this form of digital marketing to boost their brand awareness and generate qualified leads. In fact, 65% of small to mid-sized businesses run their PPC campaigns, so if you're one of those businesses, then you have an edge over your competitors who don't have PPC ads because you have greater chances of increasing website traffic, generating leads and boosting your conversion rates and sales. But if you haven't started your PPC campaign yet, it may be time to learn more about it.
11. PPC Greatly Benefits Business, According to 79% of Marketers
Pay Per Click advertising wouldn't be one of the most effective digital marketing tactics if it doesn't deliver positive results to businesses — which is why in a PPC report by Hanapin Marketing, it was indicated in their survey that 79% of marketers say that PPC greatly benefits their business.
12. 92% of Online Users Don't Notice PPC Ads
As much as there's a high chance that people will see your ads online, there's also a large tendency that your ads may go unnoticed — especially with 92% of online users ignoring or not noticing PPC ads. This occurrence is seen as a result of ad blindness and is considered a significant problem encountered by marketers who run PPC campaigns. Ad blindness is described as a form of selective awareness wherein the website visitors, may it be consciously or unconsciously, ignore the banner ads. Reasons may vary per online user, but the most common reason is that they don't like the idea of having disruptions and would prefer to have a smooth user experience through and through.
Every bit of information, whether it's showing a high amount of percentage or not, is important for every marketer to learn and understand as this will help them come up with well-informed decisions in their PPC marketing campaigns. There is no one-fits-all formula to how your business will grow because it will vary from one business to another, but it's always important to keep in mind that your business will only stop growing when you stop looking for ways to grow it.
We hope that the PPC statistics that we have provided here have been helpful to you!
Are you looking for someone to help you get started with the PPC advertising of your business? Contact us today, and we'll be glad to help you!