TikTok is one of the top Gen Z social media platforms along with Instagram and Youtube today. It was launched on both iOS and Android in 2017 on various markets outside China but was only made available worldwide after merging with Musical.ly, another Chinese social media platform in August 2018. Despite the tight competition between other mainstream platforms out there, TikTok didn't lag behind because its users grew over the few years since it was launched worldwide, which is why it is considered one of the fastest-growing social media platforms in the world.
With the growing popularity of TikTok, businesses today are finding their niche in the said platform to reach more of their target audience. Since TikTok is video-focused, it has a different approach, and like other social media platforms, you would need to plan out your social media marketing strategy to be able to draw the right audience into your brand. So to help you out in the planning process, we created an Infographic for TikTok Statistics: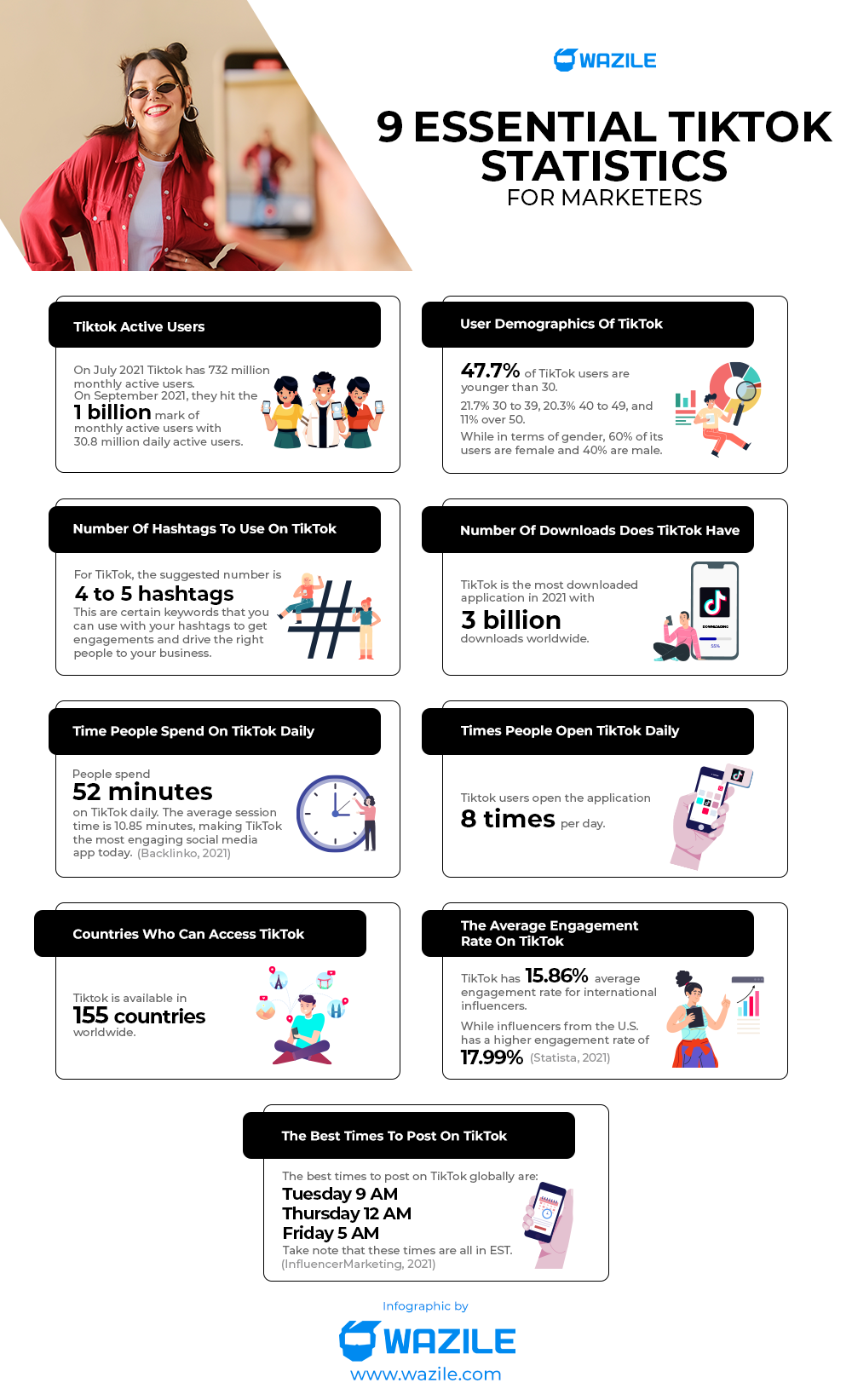 1. How Many Users Does TikTok Have?
TikTok users increased when the lockdown started in 2020 and people had to find some form of entertainment while they were staying at home. The rapid growth of TikTok users was surely evident since, in July 2020, it had 732 million monthly active users but in September 2021, TikTok announced that they hit the 1 billion mark of monthly active users with 30.8 million daily active users of the platform worldwide.
2. What Is The User Demographics of TikTok?
As mentioned above, TikTok is one of the top Gen Z social media platforms today, which is why 47.7% of its users are younger than 30. Although this doesn't mean that TikTok is entirely composed or fit just for the younger age groups because 21.7% of its users are between 30 and 39, 20.3% of it belongs to people aged 40 to 49, and 11% goes to people who are over the age of 50. While in terms of gender demographics worldwide, 60% of its users are female and 40% are male.
3. How Many Hashtags Should You Use On TikTok?
Hashtags may seem like an accessory to social media posts but they are important because they help you reach the right audience for your business. Not knowing the right number of hashtags to use on every social media platform can mess up the algorithm that can lead to no engagement at all. For TikTok, the suggested number of hashtags is 4 to 5 at most. Of course, you will also need to do your research on certain keywords that you can use with your hashtags to get engagements and drive the right people to your business.
4. How Many Downloads Does TikTok Have?
Despite TikTok being banned in countries such as India, it wasn't a hindrance. TikTok still remains the most downloaded app in 2021, having 3 billion downloads worldwide.
5. How Much Time Do People Spend On TikTok Daily?
The average amount of time spent by people worldwide on TikTok daily is 52 minutes, which is much longer than the amount of time spent by people on Facebook and Instagram. Aside from that, according to Backlinko, the 10.85 minutes average session time makes TikTok the most engaging social media app today.
6. How Many Times Do People Open TikTok Daily?
People don't only spend almost an hour on TikTok but they also open the app 8 times per day. This is not surprising since 90% of TikTok users open the app more than once on a daily basis.
7. How Many Countries Can Access TikTok?
TikTok is made available in 155 countries worldwide, which is more than half of the total number of countries in the world.
You can also read: How TikTok Can Help Businesses
8. What Is The Average Engagement Rate On TikTok?
Data gathered by Statista shows that the average engagement rate of international influencers on TikTok is 15.86% and influencers from the U.S. get a higher engagement rate of 17.99%.
9. What Are The Best Times To Post On TikTok?
According to InfluencerMarketing, the best times to post on TikTok globally are:
Monday – 6 AM, 10 AM, 10 PM
Tuesday – 2 AM, 4 AM, 9 AM
Wednesday – 7 AM, 8 AM, 11 PM
Thursday – 9 AM, 12 AM, 7 PM
Friday – 5 AM, 1 PM, 3 PM
Saturday – 11 AM, 7 PM, 8 PM
Sunday – 7 AM, 8 AM, 4 PM
Take note that these times are all in EST. The days and times that particularly get high engagement are Tuesday 9AM, Thursday 12AM, and Friday 5AM.
If you're looking for someone to help you with the social media marketing of your business, contact us today, and we'll be glad to help you!